This Content Is Only For Subscribers
Please subscribe to unlock this content.
I spent the last 10 days at Anantara's beautiful new Qasr Al Sarab Desert Resort in the Liwa desert near Abu Dhabi, and I have so many details to share with you that it's hard to say everything in one email.
Qasr Al Sarab (Mirage Palace) is set amidst Abu Dhabi's towering and awe-inspiring dunes in the Liwa desert, which is part of the Rub Al Khali (Empty Quarter), one of the world's largest uninterrupted deserts. The region was made famous through the desert adventures of the late, British explorer, Sir Wilfred Thesiger.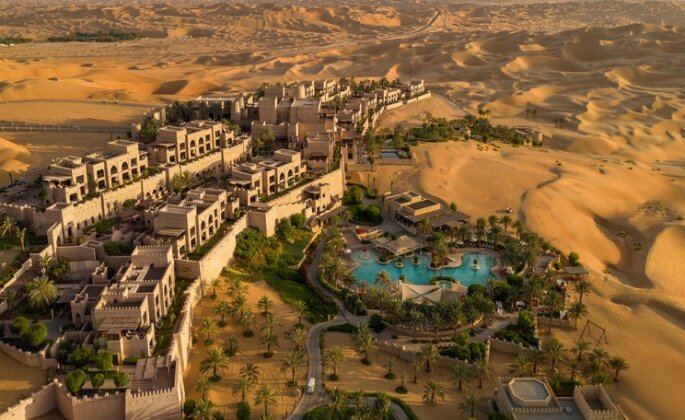 Design:
Qasr Al Sarab was designed with a clear focus on Arabian culture and heritage that reflects the history and traditions of the region. The architecture and interiors were inspired by the old forts of Abu Dhabi and Al Ain. The resort is perched on the shoulder of a dune overlooking a long natural valley that runs for several kilometres from east to west.
The interior design really struck me as something very special. Spacious, yet comfortable and full of interesting artworks and artifacts. There are actually more than 2000 unique works of art and over 2500 artifacts many of them are hundreds of years old! All of these pieces reflect the history and culture of the desert, desert life, and, of course, the Bedouin people. Everyday I discovered new and interesting items, each with a story. The artifacts were sourced from souks all over the UAE and along the old trading routes, and the beautiful pieces of old Bedouin jewelry, traditional camel bags, ancient pots, etc. are displayed throughout the resort.
Topography/Location:
The resort is surrounded by huge, ochre-coloured dunes on both sides, and a large valley/wadi offers truly amazing views. Archaeological research has identified human habitation in the area surrounding Qasr Al Sarab dating back 9,000 years. The resort is about a 90 minute drive from Abu Dhabi city and the international airport.
Experiences:
There's a range of experiences for guests to immerse themselves in local culture and learn about the area and the people who used to live here (there are still Bedouins in the Liwa desert!) from star gazing, to archery, camel riding, early morning desert walks, and desert discovery.
Personally, I really enjoyed the dinner in the Bedouin tent! Against a backdrop of vast dunes we enjoyed Emirati cuisine in an authentic and traditional Bedouin tent. There were perhaps 20 of us and it was a great way to meet other people and get to know a little about the traditions, cuisine, and hospitality that is reflective of the Bedouin people. There are smaller tents that offer dining for couples or small groups.
Nature Reserve:
Qasr Al Sarab is adjacent to a 9000 sq. km. nature reserve. In collaboration with the environmental authorities of the UAE, Qasr Al Sarab will be home to free-roaming desert fauna like the Arabian Oryx, Arabian Mountain Gazelle, and Arabian Hare. A watering hole just below the resort allows guests to become a part of their natural habitat and viewing the animals at sunset will be a memorable experience.
Facilities:
Qasr Al Sarab offers a range of rooms and villas, many with beautiful private pools, terraces, and all with amazing views of the dunes (the dune nearby is 60m high!) and of course, the valley and watering hole. There are 154 hotel rooms, 42 villas, and 10 royal villas.
The resort also has large meeting facilities with a ballroom that seats 250. Wi-Fi is available throughout the resort, tennis courts etc. There's a fitness center and, of course, a supremely intimate Anantara Spa.